QUANTUM Auto Chasing Machine
Download Brochure
QUANTUM Auto Chasing Machine.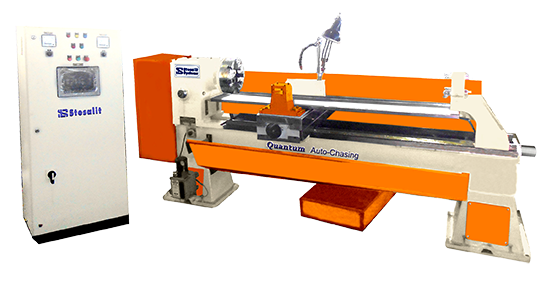 Fully Electronically controlled Automatic Chasing Machine for CTC Rollers
Salient Features / Advantage
This machine can run in either fully Auto or Semi Auto mode.
The machine performs all the operations with high accuracy, high productivity and minimum skill.
High speed operations with precision productivity for long time.
Reduces the cutting time and thereby increases productivity with minimum man power.
Easy adjustment of depth of cut ensures minimum metal cutting and longer life of Segments.
Capacity of CTC Roller sharpening -8.5" to 13" in Diameter and up to 52" in length.
Sharpening and re-sharpening with 8 to 10 TPI and any type of helical grooves.
Machine size is. Length -2850mm and Width - 1200mm, Height - 1300mm.
Ball Screw Rod for high accuracy performance.