MAGNUM Auto-Milling Machine
Download Brochure
Better quality of finished product.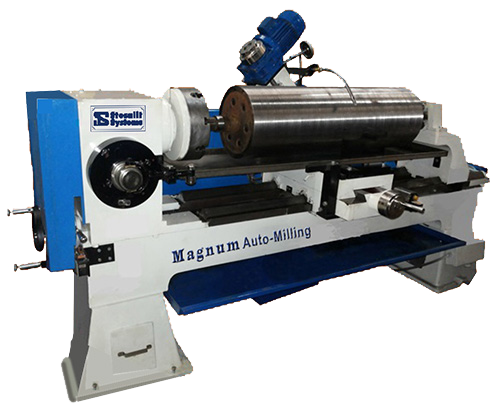 No buds and cutting chips on the cutting edges of the rollers which ensures better cutting of tea leaves, no heat generation due to metal to metal friction and ultimately no loss in liquor quality of the finished tea.
Salient Features / Advantage
The machine performs all the operations with high accuracy, high productivity and minimum skill.
High speed operations reduce cutting time and thereby increases productivity.
Reduces highly skilled manpower requirement.
Reduces setting time in comparison to multi machine operation.
Final adjustment of depth of cut ensures minimum metal cutting and longer life of Segments.
Sharpens circumferential as well as helical grooves of 40, 50, 60, 70, 80, and 100 and length and diameter of rollers with quality finish.
Machine size is. Length - 2850mm, Width - 1200 & Height - 1500mm.
Extremely smooth operation by modern, electronically regulated drive technology for milling.
High precision technology at every stage ensures perfect vibration-free and noise- free performance.