Uniquely Designed Flow Rate Monitoring System in Monorail (FRMS)
Download Brochure
PRESENT PRACTICE
At present the recovery ratio of tea made verses withered leaves is calculated based on guess work since user doesn't know the exact information about wither % of withered leaves.
TO OVERCOME this problem Stesalit has introduced the FRMS for monitoring the all events after withering when withered leaf enters in rolling area by placing FRMS in existing Monorail system.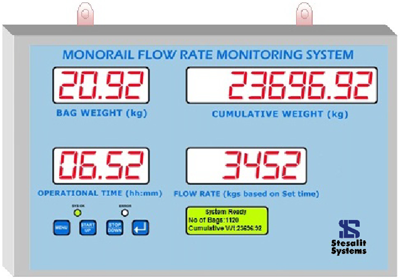 FEATURES of FRMS
Online display of:

Last bag weight,
Cumulative weight,
Total running hour (Operational time),
Last 15 min/ 30 min/ 1 hour/ 2 hour cumulative weight (user setable)

Other than above, features also available on lcd screen:

Batch No
No of Bags
Total cumulative weight (Actual weight)

Total cumulative weight for the season/ from the time of last master reset.
Every detail of last 64 batches are available in history as first in first out basis.
Built in restoration of data in case of power failure
Use of standard 20 characters 4 line LCD display for viewing of online operation and 1 inch seven segment display for viewing of display board from distance.
Modular construction for ease of maintenance.
High performance microcontroller and other components are used for better performance and ruggedness of system in real time harsh factory condition.
Total CMOS design to reduce the power consumption.
Wireless computer interface for centralized monitoring of the monorail operation (Optional at extra cost).