Microcontroller Based Humidity Management System (HMS)
Download Brochure
PRESENT PRACTICE
It is well accepted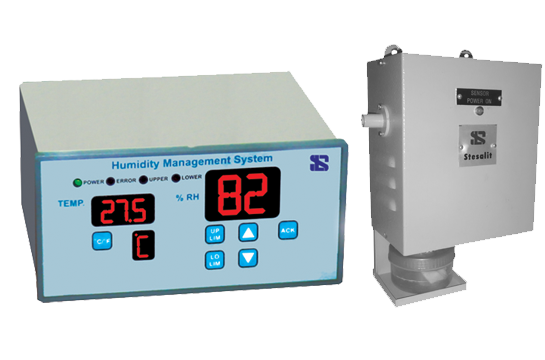 fact that relative Humidity plays very important role during entire tea manufacturing at all processing zones. At present, tea planters are mainly dependent on conventional Dry Bulb & Wet Bulb thermometers and based on difference between dry Bulb and wet Bulb thermometers they derive the % RH from standard Psychometric table. But it is very difficult to get the correct % RH since it is not possible to see the exact difference between Dry Bulb and Wet Bulb temperature in decimals and it is prone to get the erroneous %RH values resulting in taking incorrect decisions.
TO OVERCOME aforesaid problem Stesalit introduces the Humidity Management System which monitors the Dry & Wet Bulb temperature digitally and display the % RH instantly following the standard Psychometric chart.
System Overview
Microcontroller based Humidity Management System senses the dry & wet temperatures of air through a highly accurate intelligent state-of-art Sensor and directly computes the %RH as per the embedded psychometric logic inside. The single indicator & controller module digitally displays the current %RH and the Dry bulb temperature of the surrounding air.
The Humidity management System has in-built facilities to set the lower and upper limits for the desired %RH, along with incorporated audio-visual annunciation / control mechanism in case of any variation from the pre-set % RH limits. The control output signals can also be used to automatically activate / de-activate any attached electro-mechanical devices in the installed Air-Humidification unit to maintain the desired %RH within the preset limits.
Salient Features / Advantage
Accurate monitoring of surrounding Temperature and %RH to decide the corresponding fermentation residence time
%RH can be easily controlled as per preset %RH values through auto controller (optional)
Provision for Upper and Lower limit setting of %RH
Audio-Visual annunciation
%RH measuring range up to 99% and accuracy around 98%
Operating temperature upto 50°C
Computer interface for remote monitoring of %RH & Dry Bulb temperature (optional)
Wireless connectivity with sensor to display (optional)
85- 264 VAC Universal power supply input
Display Module size 96mm x 192mm x 150mm (HxWxD) the preset limits.