CFM Monitoring & Controlling System (CFM Automation)
For achieving QualiTEA by means of best optimized Fermentation.
Download Brochure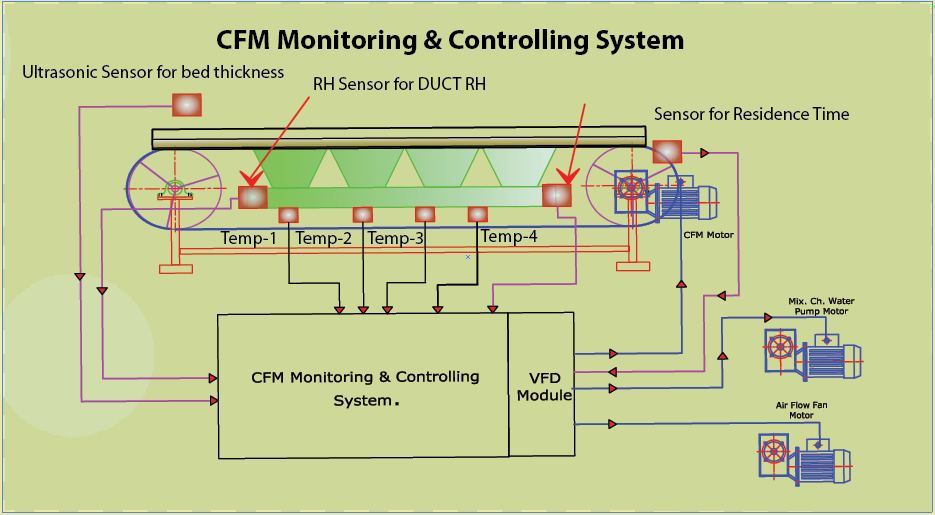 Scope of Work:
Temperature Monitoring of CFM modules (4 nos. of sensing zones).
Relative Humidity (% RH) measurement of DUCT air and controlling of Mist chamber pump (5/7.5 HP) as per the user set limit.
Monitoring of Air-pressure of DUCT and controlling the Air Flow Fan motor speed (5/7.5 HP) by using Variable Frequency Drives (VFD) at mist chamber to vary the air-pressure.
Monitoring of CFM bed material (MAL) thickness.
Monitoring & controlling CFM residence time depends upon user defined parameters by using VFDs.
All the controlling operation will be done AUTO or manually.
Scope of Supply:
Display cum Controlling Unit for monitoring and controlling.
4 nos. RTD suitable to monitor the temperature of different zones of CFM.
RTD (Pt100) based RH Sensor and Controller module.
Air pressure sensor for measuring air pressure in duct.
Sensor for measuring Residence Time of CFM.
Ultrasonic sensor for measuring thickness of CFM material (MAL).
Drive unit consisting of 2 nos. of VFDs of 5/7.5 HP and protection circuits.
Sensors to Display interconnecting Cables.
Serial port for MODBUS data (baud rate 9600, frequency minimum of 1 sec).
Audio Visual annunciation for any alarm.