Continuous Totalizing Automatic Weighing Instrument (Belt Weigher) : Stesalit Continuous Weigher (SCW)
Download Brochure
PRESENT PRACTICE
Presently Tea industry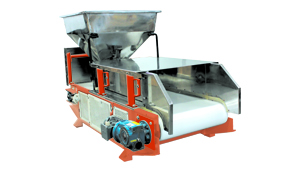 totally depends on old age technology based on batching systems for getting the tea made records which is not very reliable and huge complaint of frequent breakdowns are observed in many tea factories.
TO OVERCOME this problem, Stesalit has introduced universally accepted Dynamic method for all event monitoring data of Dryer output.
System Overview
Stesalit Continuous Weigher (SCW) is uniquely designed for online continuous monitoring of tea made output from dryers. It is basically an electronically and sensor controlled specially designed belt weigher and can be easily placed in between dryer and sorting zone. It continuously records and displays all the events like cumulative output, total operation time, power cut time etc. This helps to monitor the productivity of the whole process at any instant.
Salient Features / Advantage
Online display of current events like total operation time, power cut time and cumulative output
Detailed event recording of individual batch for past 64 batches of all parameters with date and time
Elaborate self diagnostics to detect the exact area of problems to get instant solution
Easy and well defined calibration procedures for smooth and steady operation
In case of power failure it starts automatically after one minute of power restoration
All the parts come in contact with tea made are food grade stainless steel
It can be linked with computer for remote monitoring of Stesalit Continuous Weigher (SCW) operation (optional)
Different models are available from 300 kgs tea made/hour to 1500 kgs tea made/hour
Dimension: L-1900mm x H-1200mm x W-970mm