Microcontroller Based Gravimetric Weigh Feeder "MGWF - 03" (Rotorvane Feeder)
Download Brochure
PRESENT PRACTICE of Rotorvane Feeding and its consequences
Presently, Rotorvane Feeding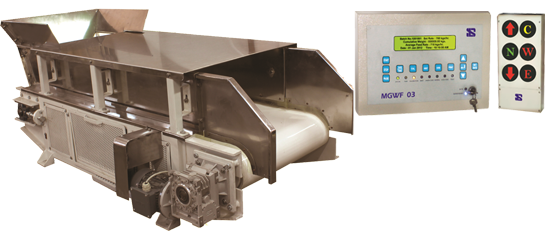 is being done manually, which does not ensure even 70% accuracy in the uniformity of feed rate continuously for the whole operational period. Even combined with the highest intensity of applied supervisory control it cannot ensure the uniformity. The tangible reasons for this are:
Natural decline in performance efficiency of the operator due to accumulated fatigue in repetitive action involved in feeding the withered leaf into the Rotorvane as noted through time & motion study on several operators for 8 hours working shift. It has been observed that the efficiency of feeding can decline by even 30% in 8 hours of operation.
Wide variation in weight of withered leaf contained in the bag for each feeding frequency the variation can be between 50 to 100%. The impact of the above mentioned two causes of uneven feeding of withered leaf leading to loss in optimal productivity of Rotorvane and all the downstream equipments are as follows:

More energy consumption for per kg tea made. (For both Fuel & Power)
Deterioration in quality due to uneven feeding rate even if total manual feeding per shift is assumed close to MGWF – 03 feeding.
The maintenance costs of Rotorvane & CTC may increase due to more frequencies in over & under feeding occurrences in manual feeding.
TO OVERCOME this problem, Stesalit has designed and developed the Gravimetric Weigh Feeder (MGWF - 03) for uniform feed of withered leaves into Rotorvane.
System Overview
Uniform rate of feed to Rotorvane is very much important to achieve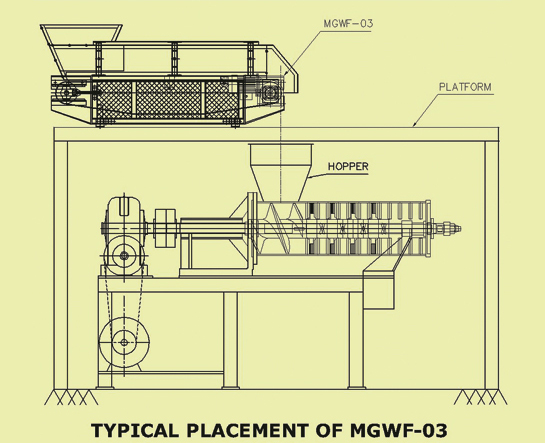 the proper preconditioning of leaf and better cut in CTC machine.

Our Gravimetric Weigh Feeder (MGWF-03) is an uniquely designed equipment, to achieve this objective of uniform feed rate to Rotorvane within an accuracy limits of around 95% of the uniformity of feed rate. The irregular or uneven feeding of leaf by the workers into MGWF does not affect the uniformity of feed rate from MGWF to the Rotorvane. This results in better and uniform quality of tea made and also saving in energy and reduction in the maintenance costs of Rotorvane. The uniform feeding in Rotorvane, through MGWF, is achieved by automatically changing the conveyor's belt speed according to the leaves fed into MGWF-03. (If leaves are fed less than the speed of conveyor will increase and if leaves are fed more, then speed of conveyor will decrease, based on preset feed rate ensuring uniform feed rate to Rotorvane. Stesalit has installed more than 500 units of MGWF-03, in many leading tea factories in India and abroad, which are working satisfactory, some of them for over 8-9 years.
Salient Features / Advantage
Uniform Feed into Rotorvane ensures to enhance the cutting quality and cutting efficiency in CTC machine results in better price realisation of tea made
Uniform feeding helps to reduce the maintenance cost of machines and power consumption as well
Online display of mass delivered, total operation time, set rate and average feed rate
Elaborate self-diagnostic to detect exact area of problems to get instant solutions
Easy and well-defined calibration procedure for smooth and steady operation
Detailed event recording of individual batch for past 64 batches of all the parameters with date and time
Audio Visual annunciation is provided for easy to understand for the person, who is feeding the leaves into MGWF -03
Computer interface for remote monitoring of the feeder operation (optional)
USB port facility to retrieve the History data (optional)
All the parts come in contact with tea leaves are food grade stainless steel
Additional Equipment
Pre - Feeder for MGWF - 03*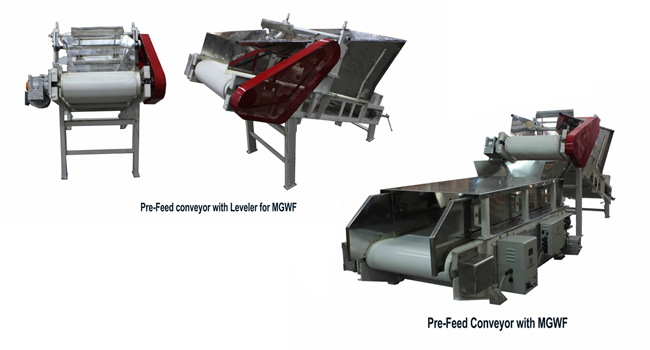 With a view to extract superior efficiency from the MGWF-03 system Stesalit has added another feather to its cap by introducing Pre-Feeder for MGWF-03 system. This new system controls the feeding of leaf into MGWF-03 system and further minimizes the zero feed, under feed & over feed possibilities occurring due to manual feeding into the MGWF-03 system.
Pre-feeder Advantages
In addition to the advantages of MGWF-03, Pre-Feeder ensures ultimate uniformity in feeding of leaves into the Rotor vane by regulating & controlling the feeding of leaves into the MGWF-03 system. The rpm of the conveyor of the Pre- feeder is directly proportionate to that of the rpm of the conveyor of MGWF-03